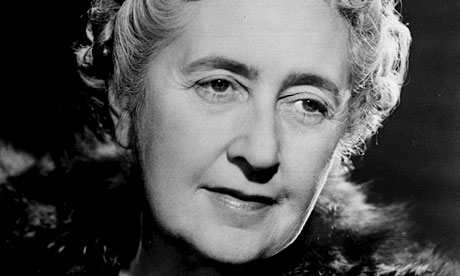 My first advent heroine is the incomparable Dame Agatha Christie. As a writer of romantic suspense, I've studied her books closely to try to find out what it is that makes them so good. Yes, I know Agatha was a crime writer, but there was often a bit of romantic intrigue at the centre of her novels (and she did write romantic novels as Mary Westmacott), such as
The Man In The Brown Suit
, and the Tommy and Tuppence novels. At least two of my novellas,
My True Companion
and
A Collector of Hearts
, are inspired by Agatha's work, and my town of Midchester is not so different from St. Mary Mead, though I have set my stories in Midchester in modern times as well as historical.
One thing reading Agatha's work teaches me personally is how to write easy prose that drives the story along. As I'm sure any of my fellow Pocketeers can verify, easy reading is hard writing. It's not at all easy to write prose that is simple, but effective. Agatha Christie was the mistress of the technique and there was a study done once on why her work was so popular.
It was because she used phrases that people instantly recognised
(scroll down to where it says 'Her language and The Agatha Christie code). That is why her books sold so many, along with the fact that as a writer she was innovative and not afraid to take chances, as
The Murder of Roger Ackroyd
shows. So I strive to make my stories move along at a similar pace, in the hopes that the reader will just keep turning the pages.
Christie was something of a mystery woman herself. When her husband, Archie Christie, said he was leaving her for another woman, she disappeared for 11 days, and turned up in a Harrogate hotel, where she was using the surname of her husband's mistress (Neele). No one ever knew why she did it, though it's been suggested that she just wanted to embarrass her husband. Either way, I love that this wonderful writer of mysteries created her own mystery, and never spoke about it.
In a Doctor Who episode, it was suggested that Agatha's novels will be read many millions of years into the future and I doubt anyone would disagree. As I toast my advent heroine, I can only wish mine achieve the same status.